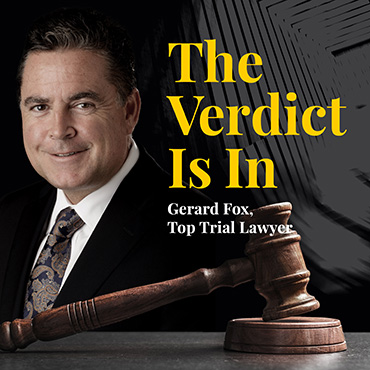 Top trial lawyer and founding firm partner, Gerard Fox recently launched a new podcast "The Verdict Is In," a series of weekly episodes discussing what's driving innovation and excellence in the legal industry. 
Mr. Fox hosts the podcast, covering a range of legal topics and introduces listeners to prominent lawyers and industry experts, and insightful discussions about the tools, services, and practices they are implementing to promote excellence and client satisfaction. "The Verdict Is In" aims to educate the public, as well as CEOs and General Counsel, on the process and considerations involved in identifying the most appropriate lawyer for the client's goals, specifically, one who will adhere to a budget and add value to the client's life or business. Guests include lawyers in a variety of practice areas: intellectual property, music, corporate, divorce, trust and estates, tax, sports, labor, criminal defense, bankruptcy, and real estate, in addition to famous clients that Mr. Fox's firm, Gerard Fox Law, P.C., has represented.  
Since launching the podcast, four episodes have aired, titled: 
How to Enforce Your Music Copyrights with Gerry Fox and Lauren Greene;
The Truth About the Law;
Family Law; and
Intellectual Property Insurance: How to Purchase this Insurance and When.
The first episode, "How to Enforce Your Music Copyrights," provides a step by step discussion of how to register your copyrights and the steps in a copyright lawsuit that can be taken, cost effectively. Mr. Fox interviews Lauren Greene, an established entertainment and intellectual property lawyer, who provides insight from her extensive experience in music copyright. 
In the second episode "The Truth About the Law," Mr. Fox focuses on lawyer inefficiencies, and discusses how even General Counsel can and should demand more value from their lawyers at less cost.
In the third episode, "Family Law," Mr. Fox interviews top family law lawyer Isaiah Vallejo-Juste, who explains the entire divorce process from start to finish, and, where children are involved, factors to consider to ensure smooth post-divorce adjustments within the family, both financially and emotionally.
The fourth and latest episode, "Intellectual Property Insurance: How to Purchase this Insurance and When" caters to large and small corporations obtaining intellectual property insurance. Mr. Fox interviews Chuck Baxter, a registered patent attorney who underwrites applications for defensive and offensive insurance for patent, trademark, copyright, and other intellectual property matters. Fox and Baxter discuss the benefits of intellectual property insurance (namely, cost reduction from avoiding litigation of claims and the added protection of your company's intellectual assets), how to secure this type of insurance, and the right time to use it.
Tune in next week for the fifth episode, "So you need to File for Bankruptcy," to listen to top bankruptcy lawyer Jeff Pomerantz of Pachulski, Stang Zeihl & Jones, who will discuss how to file bankruptcy and the different types of filings and proceedings.  
"The Verdict Is In" is available to download from the following streaming platforms (hyperlinked): Apple Podcasts, Spotify, Stitcher, and Tune In. The podcast was also recently added to C-Suite, a network of professional organizations whose members provide content tailored to the evolving needs of business executives with titles of vice president and above from companies with annual revenues of $5 million or greater.